Joined

May 6, 2007
Messages

4,093
Reaction score

336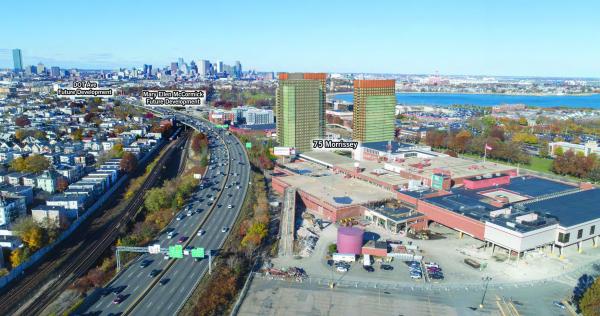 https://www.dotnews.com/2019/developers-pitch-residential-towers-old-ch-56-site
A rendering from The Architectural Team shows a conceptual rendering of 23- and 26-story towers, containing around 750 units and with underground parking garages, proposed for the former Channel 56 property at 75 Morrissey Boulevard. Development team Center Court Partners emphasizes that these are "very early days" and nothing has yet been filed with the city. Neighbors got their first look at the potential plans at a Columbia-Savin Hill Civic Association planning committee meeting on Tuesday.
This has been in the Dorchester Reporter before in the fall, and Buildup has that article referenced, but I don't think AB has a thread on this yet. Note that while this same developer owns the next two on the north (Star Market and Beasley Media Group), they can't develop them until the leases run out. I wonder how ironclad that is, or whether those tenants could be enticed to work with the developer in return for better/newer space, so this might just be a way to phase things.
Good news: rental housing. Bad news: The Architectural Team.