Joined

Oct 14, 2009
Messages

7,841
Reaction score

3,048
So platform screen doors are in wide use in many countries around the world, but not the us due to the old age of our subways. There are companies that can install them now to fit basically any system. These doors have huge value to riders #1 being increased safety, much less trash on the tracks, the ability to heat/ac the stations due to no open tunnels. There are 2 main reasons why they havent caught on in the US the first being price, the second being the non standard layouts of subway doors. With technology both of these issues have been fixed.
There is a company who proposed installing AND maintaining the entire system FOR FREE in NYC as long as they could use the space for advertising. NYC had contemplated it, but deemed due to the non standard door layouts its too tough. Also NYC is unique in that its system runs 24/7 so theres not much time to install them. We dont have that problem.
This leads to the next point. New technology allows the doors to be able to sense where the train doors are and adjust to line up perfectly.
Now with the major improvements made to our transit, including new cars not being replaced any time soon, the pricetag of FREE, the tech that lets this work on any system, and our non 24 hour transit system that would allow this work to be done I have 1 question.
Why the hell are we not doing, considering, talking about, or even pretending we want this? This (free) addition to our subways could be one of the single best upgrades we could do to our old system to bring it to the 21st century. Boston wants to innovate right? Lets do this...
https://www.google.com/amp/s/amp.businessinsider.com/nyc-could-have-subway-push-barriers-for-free-2013-1
Video showing how the new doors adjust to any system.
https://youtu.be/NForkmmz1QU
Full length when low ceilings. Video screen ads shown are what make them free. Tbh it looks good plus its even something to look at when your standing there.
Wrap around when high ceilings. Keeps the look of iconic high ceiling stations in tact.
Half length for safety but no climate control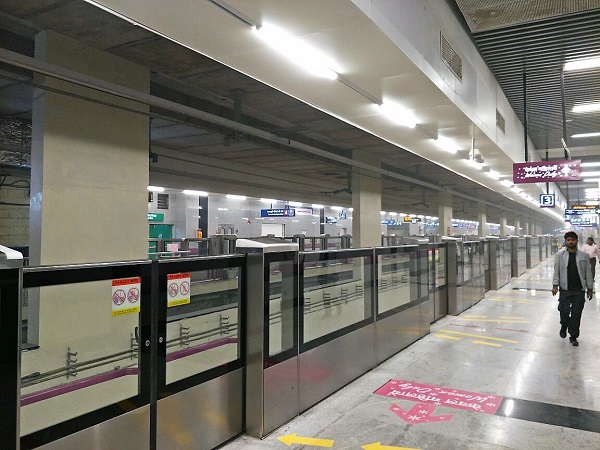 Outdoors
Welcome to the 21st century
Its free, its adjustable, its safe, no more hot as balls subway stations in summer... If 3rd world countries can have this idk why Boston cant. Itd be great if we lead the charge in the US. Someone has to be first and its inevitable they come eventually. Why wait? Theyre already proven... literally everywhere in the world but here. Its time.