Joined

May 25, 2006
Messages

6,871
Reaction score

1,298
Trans National Place
115 Federal St, Boston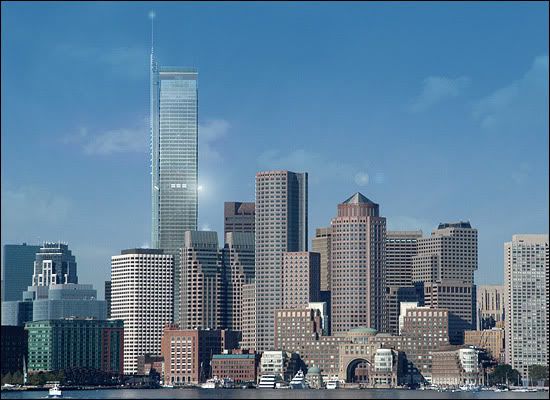 Piano (left) and Belkin (right)
Status
Proposed
Architects
Renzo Piano (formerly)
CBT/Childs Bertman Tseckares Inc.
Stats
Name: Trans National Place
Project Address: 115 Federal Street at Winthrop Sq, Boston.
Map & Plan Links:
Boston Globe Special Interactive - Green Giant
Neighborhood:Financial District
Uses:
Unofficial:
Office, Retail
Land Sq. Ft.: Unknown
Building Sq. Ft.: Unknown
Height: 75 floors, 1,270ft (with spire)
About
In 2006 Boston mayor Thomas Menino proposed selling off a city owned parking garage in Winthrop Sq in the heart of the Financial District, to be replaced with a 1000ft, "iconic" tower. A request was made for bids and after months of speculation only one proposal was put forth. The proposal was by Steven Belkin, owner of Trans National Properties., a credit card company, a vast "travel empire" and coincidently the owner of the adjacent office building. The design, a sleek, ultra-modern glass tower designed by renowned architect
Renzo Piano
was to feature a large rooftop garden and restaurant and a large public "green space" at the base of the tower. The tower itself would be built on stilts. However in March 2007 Piano stepped away from the project and a final design has yet to be released, though it is said to be "Piano inspired".
In early 2007 preservationists struck back after it was reveled that construction would require destruction of a nondescript Paul Rudolph building next to the Winthrop Garage. Preservationists requested, and received, a 90-day stay of demolition for the building so it could be determined if it has historically significant enough to save.
Then a little know law that forbid new buildings from casting a shadow on the Public Garden and Boston Common was brought into light . This could affect the tower as it is projected to cast a shadow for 15min at certain times of the year.
Images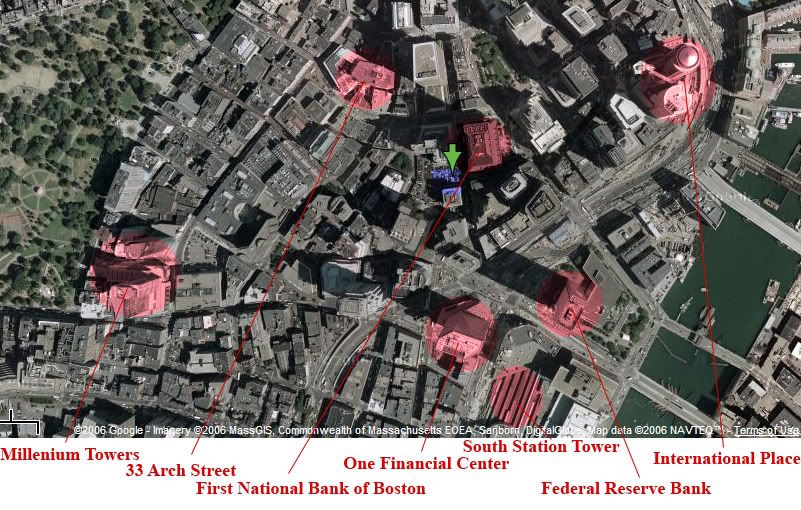 Renderings of Trans National Place in Google Earth by shiz02130
-
Mass Ave and Bolyston
-
Boylston and Dartmouth (Copley Square)
-
Bolyston and Arlington
-
Beacon and Arlington
-
Hancock Observatory
-
Southeast Expressway
-
Cambridge side of Harvard Bridge
-
Columbus Park
-
ICA
-
BU Bridge
-
Close-up of Downtown
-
BCEC
-
Bunker Hill Monument
-
North Washington and Causeway
-
Hot air balloon above North Washington and Causeway
-
Tremont and Mass Ave
Links
-
Former Trans National Place Thread (115 Federal St, Winthrop Square)
-
NECN Interview with Steve Belkin
-
Boston 2017 - Boston Globe
Articles
-
"Taking a Bath" - Big building won?t stop making big waves
05/16/2007
-
Winthrop Square garage revenue will pay for BHA upgrades
- 05/11/2007
-
Talk is cheap, but where are tower payments? Belkin hasn?t coughed up
- 05/09/2007
-
Piano vs. Rudolph Fight Called Off[/url - 03/27/2007
- [url=http://www.boston.com/business/globe/articles/2007/03/17/renowned_architect_quits_tower_project/]Renowned architect quits tower project
- 03/16/2007
-
Rudolph Building, Eyed for Piano Skyscraper, Gets Temporary Stay of Execution
- 03/15/2006
-
City's tallest tower clears first hurdle
- 01/25/2007
-
1,000-foot tower or public park?
- 12/22/2006
-
Towering dream: Belkin bullish on $1.2B icon
- 12/19/2006
-
One bidder for Mayor's tower
- 12/04/2006
-
Balkin' Belkin
- 12/01/2006
-
A glass tower of singular design is sole response to mayor's call
- 11/14/2006
-
BRA Press Release
- 11/13/2006
-
Tommy?s Tower proposals on way: Belkin will be hard to beat for plum project
- 11/12/2006
-
Hub architects: No chance for mayor's tower
- 09/29/2006
-
Tower plan draws players: Belkin creating crack project team
- 09/14/2006
-
Save Boston
- 08/18/2006
-
High and Mighty?
- 07/19/2006
-
Tycoons being neighborly: Belkin, Zell may be eyeing tower
- 06/09/2006
-
Mayor urges 1,000-foot skyscraper
- 02/18/2006
-
Mayor's skyscraper call met with tepid reaction
- 02/26/2006
There are a lot more articles but you guys didn't put any of the links up.