Joined

Dec 1, 2015
Messages

5,328
Reaction score

252
Introducing the Harbinger Development, 660 Summer Street, Marine Wharf Project; a 411 room duel branded complex consisting of 253-room Hampton Inn and a 166-room Homewood Suites....
http://www.bostonglobe.com/business...age-seaport/2WKWFJHWWYwk21ZALthk3J/story.html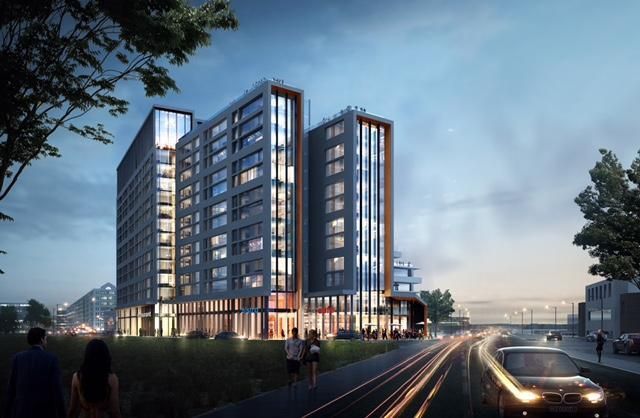 The Seaport District could soon get a much-needed block of hotel rooms.
Harbinger Development said Monday it is pushing ahead with plans to put a 411-room, dual-brand hotel on Summer Street midway between the Boston Convention & Exhibition Center and the city's cruise terminals. The company hopes to start construction next spring and serve a market so tight it's driving room rates here to all-time highs.
Harbinger filed detailed plans with the Boston Redevelopment Authority for a project it's calling "Marine Wharf." It would include a 253-room Hampton Inn and a 166-room Homewood Suites, both in one building, along with street-level retail, public open space, and meeting space. The hotels would sit on a 1.2-acre city-owned site at the corner of Summer and Drydock Avenue, near the Reserved Channel and close to a variety of big draws.
"It's a great opportunity," said Harbinger owner Eamon O'Marah. "We can serve a bunch of different markets: the convention center, the Seaport, the airport, the cruise port."
It'll be welcome news for convention center officials, who say they're losing business because of the shortage of hotel rooms near the facility. A report issued earlier this summer by the Massachusetts Convention Center Authority said the BCEC ranks last among Boston's major competitors on a measure of hotel rooms within walking distance, and is seeking convention bookings decline as a result.
That made the Summer Street site, which is owned by an arm of the BRA, a natural for a good-sized hotel.
Last fall, the BRA selected Harbinger — which has had a hand in several hotel projects downtown and in the Seaport in recent years — from among four potential developers. The two sides have been negotiating a 99-year lease for the site, and hope to have a deal in place soon, according to O'Marah and BRA spokesman Nick Martin. Final terms have not been hashed out, but Harbinger initially proposed an annual rent to start at $1.5 million and eventually climb to more than $5 million. The deal was part of a broader push by the BRA to develop land in the Raymond L. Flynn Marine Park.
The BRA will need to approve Harbinger's plan before work can begin.
Harbinger envisions a 320,000-square-foot building that rises as high as 14 stories as it steps away from the water. The two hotels — which are both Hilton-owned brands — would share lobbies, meeting space, and a 75-space parking garage on the second floor. Harbinger hopes to open in 2019, and O'Marah estimates the project will cost about $156 million.
Hotel rates in Boston are at record highs, thanks in part to tight supply. But there are 1,830 hotel rooms under construction in Boston and Cambridge right now, according to hotel consulting firm Pinnacle Advisory Group, with another 3,906 rooms in development. Still, O'Marah said, demand is strong, especially for the sort of mid-market brands his building would include. He's confident the project will pay off.
"There is room for more product," said O'Marah. "You've just got to be careful with what you're building."
Last edited: