Joined

May 25, 2006
Messages

2,083
Reaction score

3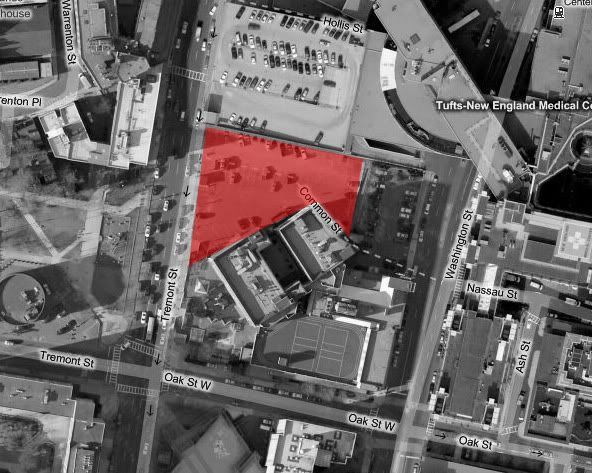 From what I gather, the Boston Arts Academy is planning on building a school on parcel-12, the parking lot adjacent to the old Don Bosco parking lot running between Washington and Tremont Streets.
Here is an excerpt from a May 2008 entry to the
Boston Chinatown Blog
:
Boston's Chinatown Blog said:

Word on the street is that the Boston Arts Academy has already approached funders to launch a capital campaign. This fact has been verified by several people in Chinatown, including the Chinatown Blogger. As part of the capital campaign, the school has assured funders that they have been meeting with the Chinatown community. Contrary, the school has rejected requests to meet since December of last year. If the school has met with someone in the Chinatown community, they have not provided any names.

TCC, which is a coalition of community agencies in Chinatown, is concerned about the lack of information from the school. Ng said at the TCC meeting that due to limited land in Chinatown, there are only 2 parcels available for development, Parcel A and Parcel 12. Parcel 12 was at one point intended to be developed for housing and the community would like to know what the school?s intentions are.

The Boston Arts Academy has initial plans to build a middle school and high school with a total student population of about 500. Add in the nearby Josiah Quincy elementary school and the Josiah Quincy Upper school on Washington Street, there will be about 1,000 students within a block of each other, which may pose traffic problems and how to ensure the safety of the students.

LINK
Another entry from June mentions the city possibly incorporating a new library into project:
The Chinatown Blog'] The past year rumors have floated about Boston Arts Academy?s intentions to relocate to a site adjacent to the former Don Bosco school (now occupied by the Chinatown YMCA and Double Tree Hotel). This blog has been [URL="http://bostonchinatowngateway.com/archives/283 said:

following the progress[/url] of these rumors since

October 2007

. Nothing has been publicly stated by the school or the City. However, a meeting was held recently by the City confirming plans to relocate the school to the site.

Word on the street is that a meeting was arranged by the City with ?interested? parties. This ?invite-only? meeting was attended by a City Councilor, the Boston Redevelopment Authority, a representative from the City?s Inter-Agency Affairs, the Boston Arts Academy, and the Boston Public School. The City is exploring options to relocate the Boston Arts Academy to the parcel known as P12 and to integrate a library on the site.

LINK

There is a public meeting regarding this proposal being held Wed. July 23, 6:30pm at the Quincy school cafeteria.